"If you are on a quest for relaxation, romance or renewal in a tranquil, unspoiled wonderland You can find it all at Kamalame.
We are committed to making your stay with us, the most memorable or your lifetime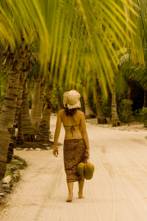 .
Kamalame & The Robb Report
Kamalame is pleased to be recognized by the Robb Report as "One of the 100 Best Places to stay" in the Luxury Resorts report. Check out the publication on the Web.
http://www.robbreport.com/resorts/
Summer is a perfect time to learn to Scuba Dive or get back into the water if it's been a while. Our onsite PADI Dive centre offers a full range of courses from absolute beginner to Advanced Specialty courses. PADI have also now just launched online course tuition called "Elearning" to make your training even more convenient and allow you to dive right in when you arrive.
With this in mind, we have some great new offers for divers and aspiring divers alike.
Call or email us for further details.
Email: info@kamalame.com
Tel: 1 800 790 7971
Or
242 368 6281